Casino Craps Spandex Table Cover
$249.99
Description
CASINO CRAPS SPANDEX TABLE COVER
Our Casino Craps Spandex Table Cover is a great low cost option to spending thousands on an authentic craps table. Our craps-themed table covers are made from a high quality stretch Spandex material and has a full color print.  The vivid and sharp graphics are dye-sublimated over the entire surface of the table cover.  The wrinkle-free and stain resistant table covers will quickly become an eye catching feature at your next casino party or tradeshow event.
The Casino Craps Spandex Table Cover is sized to fit over a standard 96" x 30" x 29" folding banquet table.  The spandex table covers fit snugly over the folding table and secures to the bottom of the table legs.  Our table covers quickly slide over the folding table and does not require any tools. The folding banquet tables are available through most local big box retail stores.
The Custom Craps Spandex Table Cover come with an open back design to store product and supplies.  The Craps Spandex Table Covers can be machine washed cold, and tumble dry on low.
We are able custom design our Spandex Table Covers with your artwork, colors, or logo for an additional fee of $50.  Feel free to contact us with any questions.
Please allow 2 weeks for delivery of your Printed Spandex Table Cover.
Material: 100% Elastic Stretch Polyester
Warranty: 6 Month against defects
Feature: Certified Flame Retardant -16 CFR 1610
Why choose Custom Table Felt for your custom projects?
1. We have been making custom felts since 2003.
2. We have made thousands of layouts for home and commercial customers.
3. Our layouts last twice as long as other felts under normal use.
4. We are a family operated business that can be reached by phone everyday to assist you.
5. We are accredited members of the BBB of Middle TN with an A+ rating.
6. We have some of the fastest turnaround times in the industry.
Back:  Open Style (Included)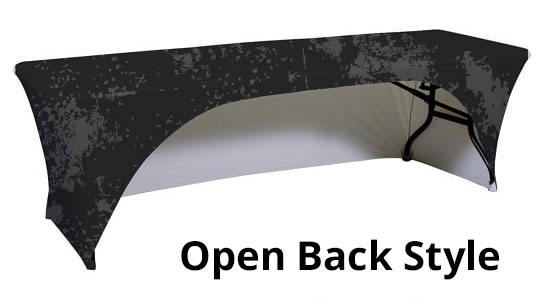 Optional:  Zipper Back ($10)